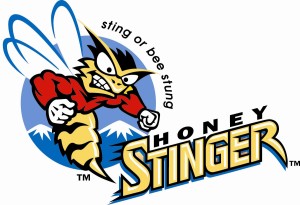 I first discovered Honey Stinger waffles sometime last summer and was instantly hooked! I would always pack a waffle or two on my cycling journeys. They were a refreshing treat when the tank was running low. I would augment them with some chews or gels from other manufacturers… only because I hadn't discovered those yet from Honey Stinger. A trip to my local REI remedied that and I came home with a couple of different flavors of their chews and a couple of their Classic Gold gels.
By far my favorite chews are the Pink Lemonade. To me they are the best tasting gels ever (and I've tried a lot). I buy them by the case and have to fight my girlfriend over them (ok, no real fighting, we share pretty well but they are her favorite workout boost). I haven't tried all the flavors but the orange and pomegranate flavors are my second favorites right now. I've heard good things about the cherry cola flavor so that is on my list to try next – that is if I can ever step away from the pink lemonade.
As far as the gels go, the Classic Gold takes well, like, honey. I know shocker! They are very good but I do need to try some of their new flavors like vanilla and pomegranate because just plain honey gets old after a while so I'll augment my gel consumption with some other brands flavors for some variety along the ride.
I also need to mention their energy and protein bars. While I like their peanut butter energy bars I think their real winner is the dark chocolate mocha cherry protein bars! To me they are so decadent tasting and remind me of some fancy designer chocolate covered raspberries. How I get the raspberry flavor from cherry I don't know but trust me they are awesome! I don't usually take these riding with me because the chocolate ends up melting and I hate dealing with chocolate fingers on the bike but I will have them as a post ride snack or even just as a mid day snack when the tank is running low between meals.
America might run on Dunkin', but I certainly ride on Honey Stinger!